Meet Our Team
Our team members have decades of experience serving individuals ages 50 and over, and their families. We understand the unique set of needs you have, and we know the specific amenities each Active Adult Community Arizona has to offer. Furthermore, our agents live in the communities and know, first-hand, what they have to offer.
Becky Kolb
Co-Founder, Realtor® ABR, SRES, CNE Team Leader
Becky shares with Carey the responsibility for the team's mentoring, motivation, lead generation and leadership. Becky is a listing specialist working primarily with clients selling their homes. And, she also works with former clients who are buying homes. She is an ACB "Accredited Buyer Representative", SRES "Senior Real Estate Specialist" and CNE "Certified Negotiation Expert". She has an excellent reputation resulting in over 50% of her business coming from referrals from satisfied clients who regularly refer their friends and family. She is a Texas native who has also lived in Colorado, Tennessee and California. Becky is known for her energy and detail, making sure her clients receive the highest level of service and care. Her volunteer efforts include serving on the IronOaks Master Planning Committee, Oakwood 18 Hole Couples Co-President and currently as a Unit Captain.
Becky and her husband John founded the company in 2010 and enjoy the active adult lifestyle including golf groups, concerts and social gatherings. They have 4 sons and 14 grandchildren. They especially like having Carey and Trish living close by and working in the family business. Eventually, they will take over the business and keep the Kolb Team name going.
John Kolb
Co-Founder, Realtor®
John is Co-Founder of The Kolb Team along with his wife Becky. He is a Buyer Specialist and whose clients say, "It's like working with your best friend". John has a passion for people and truly listens when clients share their goals for finding the perfect home. And, he oversees the team lock box and sign inventory ensuring signs are placed and removed timely. John grew up on the family farm in Iowa and holds a BA in Business Administration with a minor in Marketing from his alma mater, the University of Iowa. He also held the school record for many years in long jumping. He is proud to say that his son Carey and two grandkids are also proud Hawkeye graduates. John enjoys his golf groups and has three "hole-in-ones". He and Becky also enjoy couples golf and travel.
Carey B. Kolb
Team Leader, Realtor® ABR, iReal Estate Pro™️
Carey shares with Becky the responsibility for the team's mentoring, motivation, lead generation and leadership. Carey is a Buyer's specialist but also works with clients who want to sell their home. He is also an ABR "Accredited Buyer Representative". The work ethic he lives by began while growing up on a farm in Northwest Iowa. He went on to earn a degree in Finance from the University of Iowa and an MBA in Organizational Behavior.
Carey's knowledge of the Sun Lakes market comes from firsthand experience; he's a homeowner, Unit Captain and community volunteer, some of the reasons client like most about working with him. Couple that with his communication skills and track record and you have the formula for a winning real estate partner. He and his wife Trish raised their four children in Bremerton, Washington, where he ran the software division of a company that wrote software for the federal government. Loyalty and dedication are important traits of Carey's. He's a self-avowed Iowa Hawkeyes sports fanatic, and a long suffering Detroit Lions fan! Ask him for facts about your favorite U.S. Commander in Chief. As a presidential buff, he loves reading presidential biographies in his spare time.
Trish Kolb
Marketing Director, Realtor©, SRES
As a Buyer's Agent Trish helps clients find the perfect 55+ retirement community home. Trish pays close attention to her client's needs, matches them with the right property, then follows through with an honest and efficient transaction. The marketing and negotiation skills gained through years in the ophthalmology field have given her a strong background that easily crosses over to real estate. Throughout her career she has consulted ophthalmologists on techniques for outreach and development, and patient care strategies. Trish and her husband (and real estate partner) Carey have three sons and a daughter. Trish's enthusiasm for Arizona is obvious, saying, "From concerts and sporting events to the Desert Botanical Garden there's plenty to do and see!"
Lynette Messick
Buyer's Agent, MCNE, ABR, CSSPE, Realtor®
Selling real estate since 2002, Lynette specializes as a buyer's agent. Lynette was born in the Midwest and grew up in Colorado so she has "a country heart with some big-city influences." Her first profession was teaching, but she married a Navy man and ended up living in Scotland, Charleston, SC, and eventually, Spain. Her first job in a real estate office was in the South in the 70s followed by a mortgage company in Colorado. With a passion for listening to customers, helping them find the perfect home and protecting their interests, she strives to make this time as fun and stress-free as possible.
Anne Annis
Licensed Real Estate Assistant, Realtor®
Anne is a Licensed Real Estate Assistant specializing in buyer and seller transactions and manages all aspects of the transaction from Listing to Closing. Anne performs all data entry on a listing and manages the real estate transaction when we are under contract. She works with the lender, title company, home warranty company, seller agents and the Keller Williams brokerage system to ensure everything runs smoothly for a perfect on-time closing. Anne is dedicated to providing a seamless transaction for all of our sellers. Anne is an avid golfer who also enjoys teaching the sport. A Minnesota native, she loves to visit friends and family in the summer months.
Helen Eide
Licensed Real Estate Assistant, Realtor®
Helen has worked in the real estate industry for over 15 years focusing on all aspects from mortgage originating to title closings to real estate marketing/transaction management. As a Minnesota native, she works hard to embody the "Midwest nice" by realizing that everyone's needs are unique and they want their voices to be heard. Her driving force is her husband and two daughters that keep her grounded and loving life.
It is with great pleasure that we recommend The KOLB Team to anyone looking to buy or sell a home. We worked with John and Becky in the past to purchase a home and recently to sell our Oakwood home in Sun Lakes AZ. We found them to be honest, diligent, personable and informative. They understood what was best for our needs and didn't stop until they found the right buyer. I have never worked with anyone like Becky – her enthusiasm and attention to detail – nothing gets past her! The KOLB Team are masters of what real estate agents should be. They are hands down the best in the business!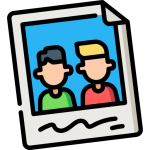 Gregg and Chris